TEL:

0207 5357595
LOGIN
Psychotherapy and the Natural World
What is the role of nature in healing the heart and mind?
Saturday 12 and Sunday 13 November 2016
Saturday 12 November 2016
09.00

Coffee and registration (Gallery, reception level)
09.45

Welcoming ceremony (Mediterranean Biome)
10.15

Keynote: Hayley Marshall (Gallery)
Taking therapy outside - Reaching for a vital connection
This presentation will sound some of the keynotes and associated elements involved in moving psychotherapy out into natural environments. Referring to personal experience and case material, we will take a metaphorical walk through an outdoor therapeutic space, engaging with the significant considerations that arise through working in this vital setting. Along the way, attention will be given to matters such as relational vitality, expansive relating, and embodied process, all of which can promote a deeper internal connection with personal traumas and ways-of-being in the world. In exploring this unique therapeutic process we will also visit the concordant potential for profound attachment to the places that sustain us, and the implications for both their future and our own.
11.30

Coffee and registration for your afternoon workshops
(on a first come, first served basis)
12.00

Nick Totton (Gallery)
Wild Therapy
The Wild Therapy project is about bringing therapy into the wild, but equally about bringing wildness into therapy. Working outdoors in comparatively undomesticated settings encourages us to bring the other-than-human and more-than human - animals, birds, plants, trees, hills, rivers, winds, dreams, ghosts, spirits - into the therapeutic process. Spending time 'in nature', as we say, can help us appreciate that we are never anywhere else, always inhabiting and encountering our own nature. In living, working and creating community together, and meeting other species in the outdoors, we may come to a stronger recognition of the interdependence of all beings: moving from a more hardened, human-centric view to a softer recognition of the value of all that lives. Bringing these experiences back indoors, we discover how they change our therapeutic work, moving us to work in a less constrained and habit-bound style when we are in the therapy room, as much as when we are outside.
13.30

Lunch break (Delegates to buy own lunch in Eden cafes)
14:30

Workshops
(Select one and book during coffee break on a first-come first-served basis)
Workshop 1: Gallery
Emma Palmer
Calling the earth to witness: telling our earth story
Recollective practices are an important facet of ecopsychology. Inspired by the imagery of the Buddha calling the earth to witness during the night of his enlightenment, as well as my own practises of meditation, journalling and photography, I am fascinated by the telling of our earth stories. In the understanding and telling many things emerge. In this workshop we can began to tell our earth stories through reflection, working outside, alone, and in small groups. My wish is that this collective earth 'storying' resources us and the biosphere as well as giving us another way of working with our clients.
Workshop 2: The Discovery Room - Education building
Carlyn Kilpatrick
Therapeutic Horticulture
It has long been intuitively known that horticulture has therapeutic value and that there is a bond between human beings and living systems - the 'biophilia effect'. Horticulture is a prodigious, adaptable and ever-changing subject that captivates and inspires. It facilitates not only 'hard' or 'active' outcomes such as vocational qualifications or digging over a bed, but also 'soft' and 'passive' outcomes/activities such as hope, appreciation of nature and beauty. We shall see how both these tangible and less tangible effects are integral to the client group's recovery, and ultimate mental well-being.
Workshop 3: The Seed Room - Education building
Hayley Marshall and Joe Hinds
Relational by Nature
In forming a 'vibrant alliance' with a 'living third', the therapeutic process is infused with a further layer of relational immediacy. This green potency has the potential to enliven the central themes of a client's process and offers an important resource for emotional regulation. With a focus on working with embodied metaphor, this workshop will explore how dynamic multi-directional 'nature-therapist-client' relating might work in practice. Through extended outdoor experiential work, group discussion, and input from the presenters own work; we will explore both the therapeutic value of solo time in nature and the possibilities gained through then adding a therapist into the equation.
Workshop 4: The Pod Room - Education building
Marion Green
An additional fee of £5 per participant to cover artists' materials is charged for this workshop
Exploring archetypical forms and moods in nature with charcoal, wax crayon and found objects - a tool for psychotherapists.
This workshop will explore the archetypes of line and curve, darkness and light, sympathy and antipathy using charcoal and wax crayons. As we work with these forms and moods we will reflect on our sympathies and antipathies and how these might be effective tools in the therapeutic setting. We will work in the studio and then go out into nature to observe these forms in the landscape. The session will end with a communal project making a mandala from found objects.
Keynote Talks - The Gallery (reception level)
09.30

Registration and coffee (Gallery)
10.00

Guy Dargert (Gallery)
Healing Emerges from Below
The rod and serpent of Asklepios - the Greek god of healing - serves as the emblem of scientific medicine. Yet it reminds us of the ancient underlying idea that healing emerges from below. It is the earth that brings us wholeness or health. To truly heal we must attend to that which presents itself to us in the form of our symptoms. These manifest both in our personal body/mind and in the greater planetary body/mind of which we are a part. The imagination is a key to admitting these chthonic energies which promote the healing of both self and planet.
10.50

Adrian Harris (Gallery)
Mindfulness in Nature
With the therapeutic value of mindfulness and outdoor therapy now well established, mindfulness in nature retreats are increasingly available. These retreats, usually framed as a spiritual practice rather than a therapeutic intervention, are typically facilitated in some remote location and last several days.
This presentation offers practical techniques for teaching mindfulness in nature as an element of outdoor therapy with groups or individual clients. These techniques don't depend on 'wilderness' and can easily be integrated into an hour long therapy session. Although there will be some discussion of the theoretical context, the session is primarily concerned with practice.
11.40

Coffee and registration for your afternoon workshops
(on a first come, first served basis)
12.10

Kelvin Hall (Gallery - Seating: Theatre)
Remembering the Forgotten Tongue: Ecological Selves in Therapy
The sense of being in profound connection, intimate exchange, or even mutual conversation with other-than-human life (animal, plant or landscape) can be an unconscious or marginalized aspect of the self. Some writers argue that this repression underlies many ills of contemporary life. This presentation will examine the variety of ways this aspect of self can be experienced: its implications for our model of selfhood and well-being; the ways that therapy can encourage or hinder its emergence; the ways it enhances therapy, including the participation of other-than-human life in sessions, both indoors and outdoors.
13.00

Lunch break (Delegates to buy own lunch in Eden cafes)
14:00

Workshops
(Select one and book during coffee break on a first-come first-served basis)
Workshop 5: Gallery
Christa Mackinnon
Human Psyche and Nature: Ancient Teachings for our Earth Soul
Research data shows a correlation between the increasing neglect of - and disconnection from - the innate nature aspect of the human psyche and the increase in depression and anxiety disorders, as well as dis-enchantment, apathy, loss of meaning and disconnection from the spiritual. This workshop will focus on indigenous and contemporary shamanic teachings about nature and the correlation between nature connection and the well-being of the 'human earth soul'. It will show how these teachings, approaches and practical ways of re-establishing inner and outer nature connection can be beneficially adapted and integrated within contemporary therapeutic practice.
Workshop 6: Meet in covered walkway, reception floor
Nick Totton
A Walk on the Wild Side
We will go out together into the ancient Cornish woods to get a small but significant taste of what working outdoors is like, the sorts of meanings and experiences which it can constellate, and how it might generate organic changes in the conventional therapeutic framework. Wear walking shoes and waterproof coats, and bring your openness and sense of wonder.
Workshop 7: The Seed Room - Education building
Joanne Hanrahan
It's not Just a Walk in the Park: integration of nature into psychotherapeutic practice
With growing interest from the psychotherapy community in the therapeutic value of nature, the ancient shamanistic ways and the newer eco-therapy approaches, this session explores the integration of nature and psychotherapy. It considers various approaches to incorporate the natural world into practice. Based on recent research, this interactive seminar highlights study findings and theoretical links. Using a combination of photographic slides, group work and experiential learning the seminar will outline a model for practice and the clinical implications of such a practice. Issues around the continuum between psychotherapy as a science, and psychotherapy as an art, or therapy of the soul, emerge in nature and psychotherapy research and literature. Reflections on this continuum, made as part of the seminar, will be of interest to therapists, supervisors and psychotherapy trainers.
Workshop 8: The Pod Room - Education building
Marion Green
An additional fee of £5 per participant to cover artists' materials is charged for this workshop
Our relationship to the rhythms of the sky - a tool for psychotherapists.
Using the rainbow as a starting point we will follow the journey of the sky from sunset through the night to sunrise: colour into darkness, and the return of the light. Through these painting exercises we have an opportunity to inwardly experience the outer rhythm and breathing process of the sky as a metaphor for soul life. We will consider how, when and what can be gleaned (e.g. as a diagnostic tool) by bringing observation of natural phenomenon into the therapy room. We will use wet paper and water colours. A demonstration of how to use the materials will be given for those unfamiliar with the materials.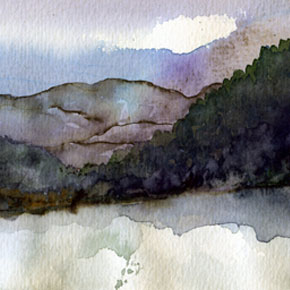 Fees
Self-funded:
£190
Self-funded x 2 places:
£290
Organisationally-funded:
£250
Fees include access to all talks and workshops; handouts, tea/coffee and access to the Eden Project. Lunches are not included.
CPD Hours
Certificates of attendance for 12 hours will be provided at the event
Venue
The Eden Project
Bodelva
St Austell
Cornwall
PL24 2SG
DIRECTIONS & MAP >>
The Eden Project website
Accommodation near The Eden Project
Times
Saturday:
Registration 09.00hrs
End 17.30hrs
Sunday:
Registration 09.30hrs
End 17.00hrs